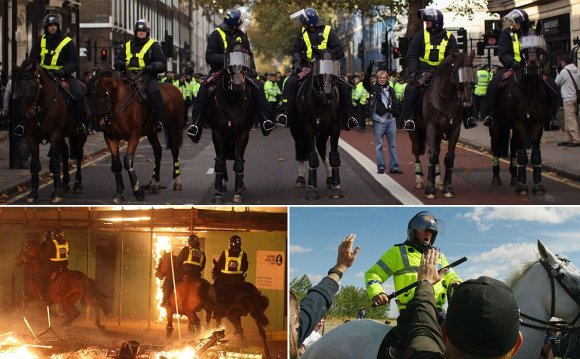 Horse Blanket Cleaning and Repair
&
Custom Mounted Police Equipment
Custom Mounted Police Equipment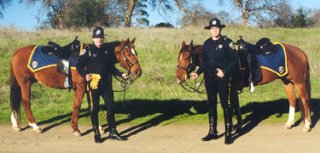 Chico Police Department using one of our cordura saddle pad designs
Cordura Dress Saddle Pad
Cordura oversized dress saddle pads are used over a western fleece pad. They are made from 1000 denier cordura nylon which completely covers the fleece pad and creates a very nice professional look. Available in almost any basic color. Polypropylene binding [used to bind the best horse blankets] also available in any color. You provide two patches per pad ordered and I will sew them in the corners. I have made these pads for many departments including theNYS Park Police; Albany (NY) Mounted Police; Warren County (NY)Mounted; US Border Patrol [USDOJ] - San Diego, CA; Chico (CA) PD;Skidmore College; and the Metropolitan Police, Washington, DC. The pads last for years. If the patches fade I will remove and replace them for a small fee.
These pads come in a variety of sizes and shapes to fit your needs. These include but are not limited to: square or round front, large enough for a large square skirted western saddle or small enough to fit a McClellan, either a full swallow tail or a squared off tail like the pads used by the RCMP.
This is a nice pad and only needs washing to retain its crisp and colorful look. Material samples upon request.
$95.00 plus shipping
Onaway Police Department cordura saddle pad
Source: horseblanketetc.com
INTERESTING VIDEO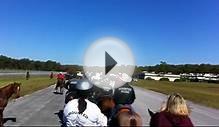 Mounted Police Training integrated with Mobile Field Force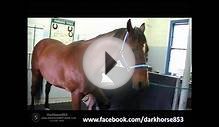 Time for New Shoes @ The NSW Mounted Police Open Day 12092015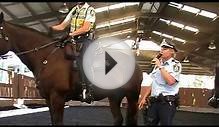 Mounted Police Equipment @ The NSW Mounted Police Open Day ...
Share this Post