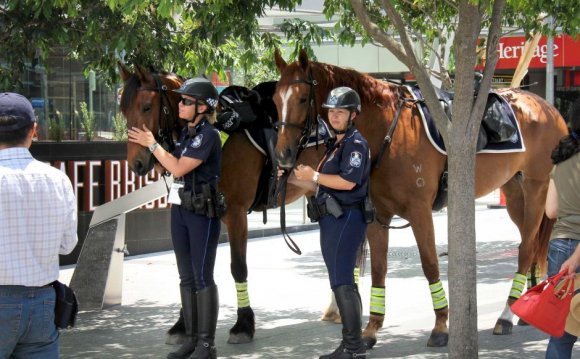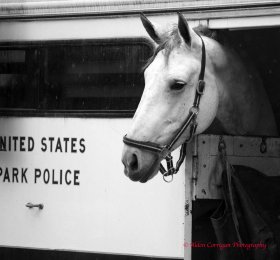 Mariea Sabaté always wanted to work with horses.
"I grew up right here in D.C., and when I was a little kid visiting the monuments . . . all I cared about was 'Where were the Park Police horses?' " said Sabaté, a mounted officer with the U.S. Park Police since 1991.
But most officers have never been around a horse before starting the job.
Three years after joining the force, officers can apply to become a mounted officer with the Park Police, which patrols the Mall and other national parks. Only a few are chosen each year.
Sabaté trains Park Police applicants, putting them through an intense 10-week course. The training covers everything from "this is the front and back of the horse" to eventually getting them to control the animal, said Sergeant Myrical Gratton, who went through a similar course for the Maryland-National Capital Park Police.
A horse pokes its head out of a U.S. Park Police trailer at the Washington International Horse Show, held at Verizon Center. (Alden Corrigan)
What draws most police officers to the mounted unit is the connection the horse helps make with the public, several officers said during a recent gathering at the Washington International Horse Show. Since people living in the city aren't used to seeing horses, the animals help make the officers more approachable, said Sergeant Raymond Chairs of the Metropolitan Police Department's mounted unit.
"I can sit an officer on the corner anywhere in the city, and only a handful of people will talk to that officer, " he said. "But I can take an officer on a horse, and several hundred people will come talk to that officer."
But it's not all fun and games. When it's time to keep people in line, the horses are ready. Horses help control crowds because they let officers see farther than they could on the ground.
"One horse can do the work of 15 to 20 officers, " Chairs said.
Horses also make chases an uneven fight. Gratton said she has had a few instances when someone tried to run from her during an arrest. "I usually catch up with them pretty quick, " she said, "and tell them to let me know when they're tired."
Chairs recalled one time when a man tried to run up a set of steps to get away. Once he saw Chairs's mount, Seamus, a draft-quarter horse mix who weighs about 1, 800 pounds and has "big, dinner-plate-size feet, " bounding up the steps toward him, he immediately shouted, "I give up!"
Navigating stairs is just one task the horses are trained to tackle. They must get used to the noises, sights and activity of the city before they are allowed to work. Sabaté's horse was trained as a show horse.
"The first time I took him down K Street, he thought he was going to die — I thought I was going to die!" she said with a laugh. "But now he's one of my steadiest horses."
Part of her job is to pick horses to become mounts, so Sabaté needs to figure out quickly if they'll be good for the job. She asks owners looking to donate a horse: "Would you be willing to ride this horse down the middle of Pennsylvania Avenue in the heart of Washington?" Their expression usually gives her the answer.
Source: www.washingtonpost.com
INTERESTING VIDEO
Raw Video: Royal Canadian Mounted Police Officers Take a ...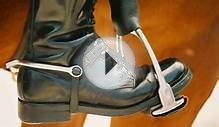 Police Mounted Officer Medley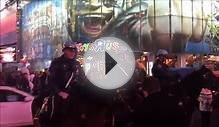 NYPD Mounted Police Officers & Their Horses On Patrol In ...
Share this Post