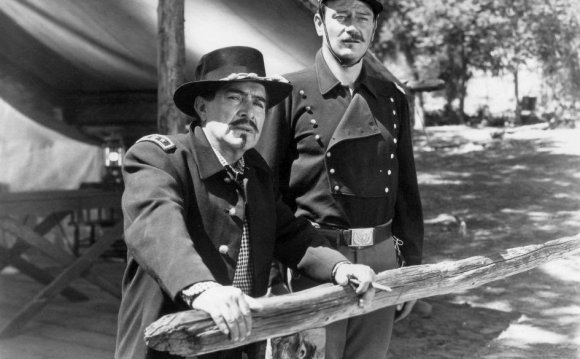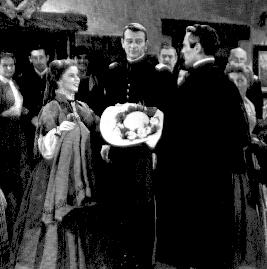 Fort Apache
John Wayne playes Captain Kirby York in the movie. It has and an All-Star cast of Henry Fonda, Shirley Temple, Pedro Armandez, Victor Mclaghen, and John Agar. It was directed By John Ford as all the Cavalry Triolgy are.John Ford insisted That the were in no way conected. Henry Fonda gives and outstanding performce as well as the rest of the cast. It is about a Fort in the South West. The new commader, played by Henry Fonda, is a little bitter that he was sent there. He brings along his daughter Played by Shirlie Temple, her love intrest is play by her real life husband John Agar. Pedro Armandez and Victor Mclaghen both Play Privates. John Wayne playes the second in charge. They try to get a tribe of Indians back in the territory. John Wayne and Pedro Armandez go on a trip and John Wayne talkes then back in. Then when the Indians come back Henry Fonda atacks Them. Henry Fonda and a group of others Dies Leaving John Wayne in command.
She Wore A Yellow Ribon John Wayne playes Nathan Brittles. Also Satring John Agar, Harrey CArrey Jr, and Victor McGlaghen. It was again directed by John Ford. The second in the Trilogy it is also the best. John Wayne playes an aging commander in his last week. He has to go out for one last Patoral where they get more than they bargained for. John Wayne Give one of the best preformances of his Career. I don't understand why he wasn't nominated for an Oscar. I love this movie and think everyone should see it. Rio Grande This is the last in the Cavalry Trilogy it is really good. John Wayne Plays Kirby Yorke. This puzzles my in the first one he Plays Kirby York no e. It also starres Maureen O'Hara, Victor McGalghen, Ben Johnson, and Harry Carey Jr. His son who he rarley sees joins the cavlary after dropping out of westpoint. Maureen O'Hara, Duke's Wife, comes to get their son back. He refuses but she stayes with the cavalry on the fort. They set out for some rebel indians. The indains steal some they get the kids back John Wayne and Maureen O'Hara fall back in love and his son gets honnors. Everyone of the cavalry Trilogy movis are really good see them all.
This page has been visited times.
More:
Source: members.tripod.com
INTERESTING VIDEO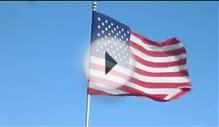 AMERICAN MARCH JOHN WAYNE U.S. 7th Cavalry March Theme ...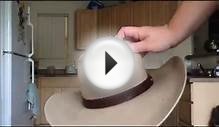 John Wayne Cavalry Hat Unboxing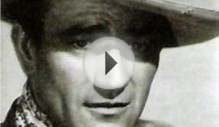 John Wayne Movies
Share this Post