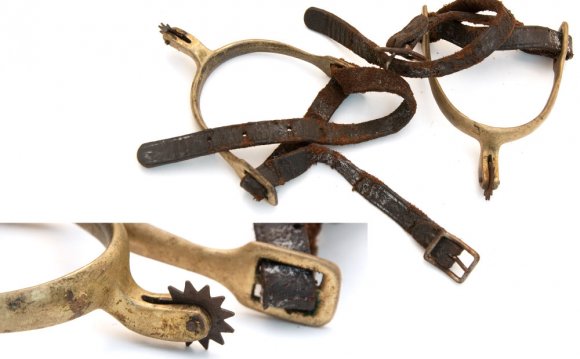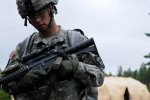 JOINT BASE LEWIS-MCCHORD, Wash. - With the exception of horses, probably nothing is as symbolic to the cavalry as spurs. When a Soldier earns his spurs, he has proven to have a level of expertise beyond that of the average cavalrymen.
Continuing a long tradition, Soldiers with 1st Squadron, 14th Cavalry Regiment, 3rd Brigade, 2nd Infantry Division, took part in a unit spur ride, an event that tested physical prowess and knowledge of common Soldier skills June 26-27.
Cavalrymen trace the history of the spur ride to the beginning of the American cavalry. "It was a way of validating new troopers' individual skills both physically and mentally, " said Command Sgt. Maj. Sean Mayo, 1-14 Cav. command sergeant major.
Historically, new cavalry troops required extensive horsemanship training when they arrived at a unit. Only after they had proven to be proficient atop a horse could the cavalrymen wear spurs.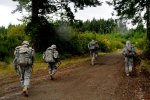 Currently, soldiers can earn silver spurs for completing a spur ride and gold spurs for serving in combat with a cavalry unit.
Although soldiers today do not need to prove their horsemanship skills, they do need to show that they have what it takes to ride with the cavalry, and for modern cavalrymen, this means being part of a team.
"No one ever fights alone, " Mayo said. "There has never been a battle won by a single individual fighter."
Operating with little to no sleep, four-man teams of spur candidates navigated through six stations where they demonstrated their knowledge of weapons, land navigation and medical evacuation. They event ended with a 12-mile foot march to their last station - a written test covering unit and cavalry history.
In addition to testing candidates physically and mentally, the spur ride helped build unit cohesion and motivate the soldiers.
"As a unit, this brings everyone closer because after you all go through that struggle, you all have some type of camaraderie, something to talk about, something to bring you together, " said Spc. Tevin Davis, a cavalry scout and Youngstown, Ohio, native serving with 1-14 Cav.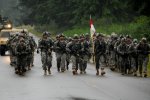 Although a cavalry unit at its heart, 1-14 Cav. is comprised of soldiers with dozens of technical specialties who work together to complete their mission.
"We treat everyone as cavalry troopers regardless of their branch, " Mayo said. "We find that it's best to build the team at all levels if you treat everyone the same."
From administrator to mechanic to cavalry scout, the spur candidates from 1-14 Cav. endured struggle.
"Some of the strongest bonds between soldiers are forged under shared hardship, " Mayo said. "This spur ride was certainly shared hardship."
While the spur ride brought soldiers together and connected them with their cavalry roots, it also tested their ability to perform under stress.
"It provides quality training and brings camaraderie and boosts confidence, " said Staff Sgt. Cory Williams, a senior spur holder and Kirkland, Wash., native with 1-14 Cav. "When they complete this and earn their spurs, they'll have something to be proud about."
Once fitted with their spurs, the new spur holders joined a long lineage of fellow cavalrymen and have shining proof on the back of their boots that they carried on a historic tradition.
"Earning my spurs feels amazing, " said Pfc. William Bridges, a cavalry scout and Smiths Grove, Ky., native with 1-14 Cav. "So much time and effort goes into training both mentally and physically, and you are part of a time honored tradition."
Source: www.army.mil
INTERESTING VIDEO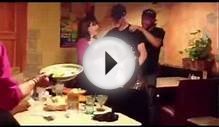 U.S. Army Cavalry Scout Surprises His Mom (& Brother) At ...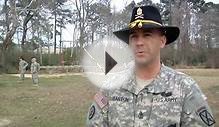 Order Of The Spur - U.S. Army Cavalry Spur Ride
Share this Post