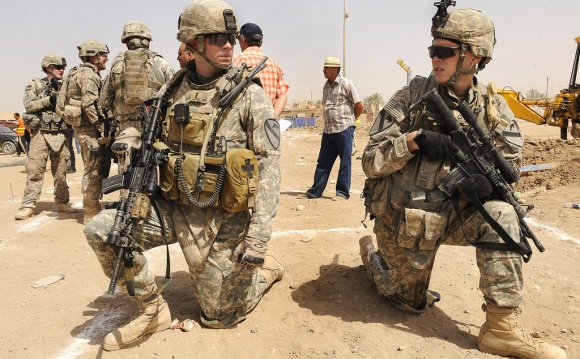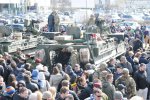 WIESBADEN, Germany (March 20, 2015) - A battalion from the U.S. Army's 1st Brigade, 3rd Infantry Division, based in Fort Stewart, Georgia, assumed responsibility for the U.S. Army's Operation Atlantic Resolve, or OAR, land force training and security cooperation activities in Estonia, March 20, from Army Europe's 3rd Squadron, 2nd Cavalry Regiment, in the first of several scheduled transfers of mission that will occur throughout eastern Europe over the next few days.
The 1st Brigade, 3rd Infantry Division, is an armored brigade combat team and the U.S. Army's current regionally aligned brigade for Europe.
They will spend the next three months training alongside NATO allies in support of OAR. As an armored brigade, they are equipped with tanks and Bradley Infantry Fighting Vehicles, and will utilize these systems in the course of their training in Europe.
In a capstone event to their OAR training mission, the Soldiers of 3rd Squadron, 2nd Cavalry Regiment, will begin driving their Stryker Combat Vehicles more than 1, 800 kilometers from Estonia to Vilseck, Germany - a journey that will take them across six allied countries in 11 days.
This road march, which the squadron has named Dragoon Ride, will travel through Estonia, Latvia, Lithuania, Poland, the Czech Republic and Germany.
In each country, Soldiers from the respective host nations will participate alongside their U.S. counterparts and together they will conduct community engagements at key points along the route.
Iron Troop is the first of three troops from 3rd Squadron that will take part in Dragoon Ride. The other two will begin in Lithuania and Poland, respectively. All three troops will rendezvous in the Czech Republic, and drive the final leg together to their home at Rose Barracks in Vilseck, Germany.
NATO, U.S. Air Force jets, and U.S. Army helicopters will support Dragoon Ride by providing aerial reconnaissance and resupply to the ground forces.
Additionally, the U.S. Army's 4th Infantry Division deployed a contingent of its headquarters from Fort Carson, Colorado, in February as the Mission Command Element that will serve as the command and control headquarters for Dragoon Ride.
As the regionally aligned division-level headquarters for U.S. Army Europe, it has the capability to synchronize ground and air operations and to allocate and deliver resources across all the participating allied nations.
The operation represents a great leader development opportunity, and will test the unit's maintenance abilities, said U.S. Army Europe Commander Lt. Gen. Ben Hodges, in an earlier interview.
Hodges further said the operation will test the Army's ability to move freely from one country to another, while providing a visible show of assurance to local residents.
"Dragoon Ride is a complex mission involving a significant amount of international diplomatic and military cooperation, " said Lt. Col. Craig Childs, U.S. Army Europe spokesperson. "It will allow all units involved an opportunity to exercise key command and control systems across all levels of command, test their unit leadership and maintenance capabilities, while simultaneously providing a highly-visible demonstration of U.S. commitment to its NATO allies and demonstrating NATO's ability to move military forces freely across allied borders in close cooperation."
The close cooperation with allies, required to conduct a complex operation of this nature, serves to deepen the institutional trust between allied armies through the development of personal relationships that are strengthened through this shared experience.
About us: U.S. Army Europe is uniquely positioned in its 51 country area of responsibility to advance American strategic interests in Europe and Eurasia. The relationships we build during more than 1, 000 theater security cooperation events in more than 40 countries each year lead directly to support for multinational contingency operations around the world, strengthen regional partnerships and enhance global security.
Source: www.army.mil
INTERESTING VIDEO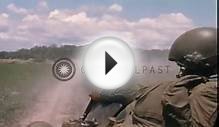 11th Armored Cavalry Regiment of the US Army passes ...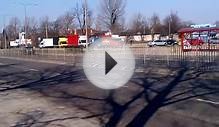 2nd Cavalry Regiment US Army in Suwalki(Poland) 2015/03/24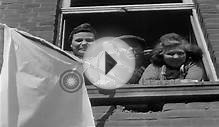 US Army 4th Cavalry Regiment M10 tank destroyer enters ...
Share this Post