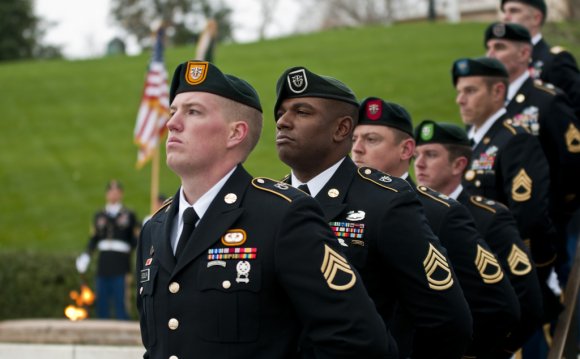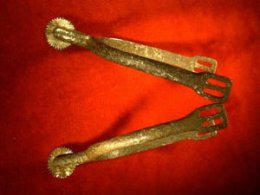 Some markings:
C.S. Confederate States (Confederate Government Richmond Depot Issued)
U.S. United States
N.S. Nickel Steel
A.B. Manufacturer August Buermann – August Buermann was born in Sattenhausen, Germany Aug. 04, 1842. He apprenticed as a locksmith in Germany and he arrived in New York Aug. 1864. A few weeks later he went into the Army as a substitute for someone who came into the locksmithing company where he was working, looking for a volunteer. August Buermann Mfg. Co. began making spurs for both the civilian and military markets. Most all of the civilian Buermann spurs after about 1912 were stamped with a star in the government contract versions. Buermann contract spurs were marked US over AB on the inside yoke base, opposite the shank. Many of the "1911 officer spurs" that are seen today were private purchase Buermann's. Officially, both enlisted men and officers were issued the same 1911 spur, except the officers were entitled to heel chains instead of leather but a wide variety of spurs and 1911 variations were used. The 1914 experimental spur was the only other official spur authorized besides the M1903, which was in use until after WWl and the M1911 which was issued beginning in 1912 and was in use until the end of the era. The 1914 spur had downward bent yoke ends and two lugs instead of one. Buermann was bought by North & Judd, a huge hardware company, who continued to make some cavalry goods until the dismounting in 1948. Partrade now owns the remnants of North & Judd, and they deal chiefly in imported inexpensive pet horse hardware.
(Webmaster's note: Thank you to Ms. Muriel Parker for the information on her great grandfather, August Buermann!)
WL Whithorse Lecompte – Another government contractor who made quite a few bits and spurs for the government
relative to the WW1 contracts. Not nearly as many as Buermann, though. There are a few spurs out there that are unit marked, for example, an extra "2″ (and other stamp) may be a mark denoting it to the Second Cavalry.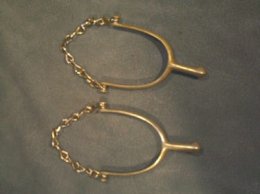 R.I.A. Rock Island Arsenal
N&J Manufacturer North & Judd
L&R Leech & Rigdon – Confederate Spur Manufacturer
Boone Manufacturer (Actual descendants of Daniel Boone)
MSH Could possibly stand for Miller Saddlery and Harness – I don't know if they contracted for the Government in wartime, but if General Motors could make machine guns and Smith Corona could make optics for the Army, seems like any horseman manufacturer could worm in on a contract. Millers stayed in business until after Korea, then became Miller Stockman.
Below are some Cavalry spur examples from cowboygear.com
These Cavalry spurs were made from the Civil War to about 1903.
Rock Island Arsenal Cavalry Spurs dated 1903.
A.B. Cavalry Spurs
The Order of the Spur
1. The Order of the Spur is to recognize individual qualifications for those in a cavalry unit. The privilege
of being awarded Spurs in 7th U.S. Cavalry comes with hard work.
2. The following minimum guidelines must be met:
2 years in the 7th U.S. Cavalry.
MOSQ or Branch qualified
Interview with Squadron Commander.
3. Qualified on a Squadron Spur Ride. The title belies the nature of this event. A Spur Ride is led by "Spur Qualified" Non-commissioned Officers and is supervised by the Squadron Command Sergeant Major. Officers, generally, conduct
their own Spur Ride along similar lines. Traditionally, it starts at the break of day with group PT or a PT test; individuals and their equipment are inspected, and a thorough hazing of candidates begins. During the course of the day, candidates are subjected to different stations that test their initiative, military expertise, and stamina. As night approaches, the candidates are assembled and provided with instructions. From there, the candidates must negotiate a general route from station to station where, again, their skills and tenacity are tested. Their route is designed to take them over a twenty-five mile course in the dead of night. During the course of the night and usually into the morning, candidates negotiate the course and, eventually, arrive at the finish line.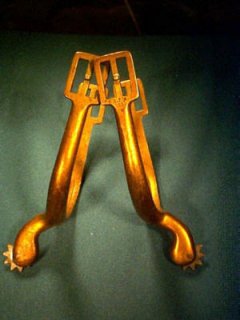 4. In addition to the above minimum requirements, the following are criteria that will be graded on a point system. A total of 300 out of a maximum of 450 will qualify.
Point Values:
Individual Weapons Qualification: Marksman = 50/ Sharpshooter = 100/ Expert =150
Annual Physical Fitness Test: 180-220 = 50/ 220 – 270 = 100/ 270-300 = 150
Cavalry Thesis w/bibliography: Grade C = 50/ Grade B = 100/ Grade A = 150
_________________________________________________________________
Here's Another example from Army Reserve Cav unit E Trp, 101st Cav:
Reference for esteemed brothers of the Order of the Spur and would be maggots. For those that aspire to someday joined
the ranks of those elevated to a stature in life befitting a Spur Holder, the following applies:
All candidates will be selected, voted on by the Spur Association and invited to attend the annual Spur Ride based on this
criteria.
Attended Basic and Advanced Individual Training.
Be a member of the Troop E 101st Cavalry for one year.
Attain and hold the rank of Specialist or above.
Attend a unit annual training rotation or an alternate in a constructive attendance status.
Spur candidate nomination must be approved by Spur Association.
In addition to the above stated criteria it is required for invitation to the Spur Ride, a qualifying soldier must meet a
minimum score of 400 out of 570 points. The points and their maximum totals are listed below.
Qualifier Criteria Maximum
total Drill Attendance: 10 points for each scheduled drill 120 APFT: Points only, regardless of pass\fail
additional 25 points awarded for passing score
325 Marksmanship: Marksman: 25 points
Sharpshooter: 50 points
Expert: 75 points
75 Super Scout Event
Participation Participating in and completing the Super Scout Team Competition 50 Bonus Points: AT Attendance, Army School attendance, State or federal activation. 20
Also, past unit members that have made a significant impact on the unit may be considered for invitation contingent
upon approval of the Spur Association.
________________________________________________________________________
Here is an example of required tasks – this also varies from unit to unit
SPUR CANDIDATES WILL BE TESTED ON THE FOLLOWING TASKS DURING CIRCUIT TRAINING:
EVACUATE A CASUALTY
WEAPONS STATION ( M16A2, M240B, M9 )
MYSTERY TASK
ISSUE A SALUTE REPORT
PLACE SINCGARS RADIO INTO OPERATION
EMPLOY CLAYMORE MINE
Source: www.cavhooah.com
Share this Post