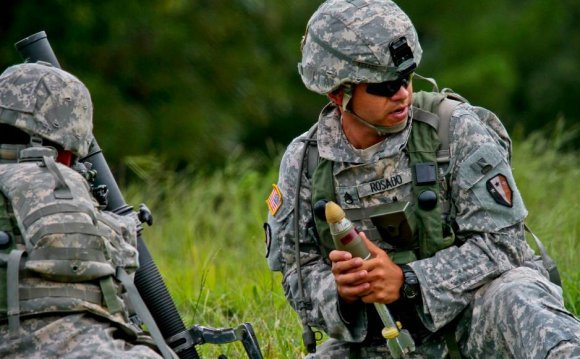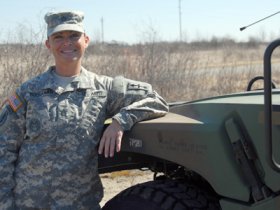 At the end of the competition, held at Camp Williams, Utah, Specialist Cruser Barnes, a cavalry scout with the Hawaii Guard's Troop A, 1st Squadron, 299th Cavalry Regiment, was named Soldier of the Year, while Sergeant Robert Cunningham, a combat engineer with the West Virginia Guard's 119th Engineer Company (Sapper), was named the NCO of the Year. Both will move on to compete in the 2015 all-Army Best Warrior Competition in October at Fort A.P. Hill, Virginia, where they will compete against Soldiers from throughout the Army to be named the Army's Soldier and NCO of the Year.
Barnes said he's ready to take on the challenges that come with moving to the next level of competition. "I'm stoked and ready to start training for the next event. I've got some time — it's not until October — but I'm ready to get in it and give it my best."
The Utah competition stood as a grueling three-day test that stressed competitors both physically and mentally.
"It pushes you to your limits, " Cunningham said. "[You're stressed] and it really teaches you what it takes to be a well-rounded Soldier."
To make it to the Army Guard-level competition, the competitors worked their way up from winning unit-level Best Warrior Competitions and through several more competitions.
"These Soldiers are already five-time winners, " explained Army Guard Command Sergeant Major Brunk W. Conley. "They've already won their unit Best Warrior competition, the battalion, the brigade, the state, the regional. These folks have been in competition for months now. They've already demonstrated what it takes to compete and win."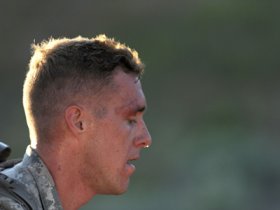 For Cunningham, this year's event marked his second time competing in the Army Guard-level competition. He took part in last year's competition at Camp Joseph T. Robinson, AR, and said that while both competitions were equally strenuous, the terrain and higher elevation of Camp Williams brought added challenges.
"The higher you get, the less oxygen you have, " he said. "With the miles we're putting in, it's harder to feed those lungs oxygen, so you're wearing down faster, you're tired faster, and you're sucking for air. But it's about equal for everyone here."
Barnes agreed. "The elevation and the air is totally different here. It's really dry, so it's totally different when you're running."
The competition began with the Army Physical Fitness Test, consisting of pushups, sit-ups and a two-mile run. From there, competitors toughed it out in a number of events that covered marksmanship, close quarters combat, land navigation, casualty evaluation and a variety of other tactical and technical skills. In all, they ran or traversed more than 20 miles of terrain over the course of the competition.
Barnes said the stress shoot event, in which competitors engaged multiple targets at several stations spread over a six-mile course, was one of the most challenging. "It was pretty challenging to do that whole course and shoot, move and run between ranges, then calm down and shoot again."
For Cunningham, getting through the competition was a matter of focusing on one task at a time. "Basically you just tell yourself one more task. It's just one more task, get to the next one, and then the next one. Whether you perform well or you perform poorly, you just put it behind you and focus on the next one and put one foot in front of the other and keep breathing and stay cool, calm and collected."
Though it's designed as a competition, the larger focus is the training value for those in the event, Conley said. Many of the events were developed and supervised by Soldiers from the Utah Guard's 19th Special Forces Group.
"Special Forces are really integrated into this. They have a lot of equipment, a lot of experience and leaders who are using that to stress our warriors and test them to the highest level, " Conley said. "The real winners are their units, when they (the competitors) go back and they share their experiences with their peers and their subordinates and they take everything they've learned here and they put it into practice."
For Barnes and Cunningham, the next step is putting into practice what they've learned in preparation for the all-Army competition. Both said they expect it to be even more grueling.
"[I'm going to] try and ramp up training as much as possible and push my body to new limits, " Barnes said. "Each competition you need to figure out what you're weak at and train more and just work on those things."
Cunningham said he will mentally prepare himself to get through it the same way he pushed himself through each previous competition. "Basically, you just tune out the pain. You focus on good thoughts — your friends, your family back home, and all the great opportunities and blessings just to be here. Once you put that into perspective, then the pain you feel is relatively miniscule."
For now, Cunningham stands in awe of being named Army Guard NCO of the Year. "It's an honor being able to represent all 350, 000 [Soldiers in the Army Guard]. To be distinguished like that is an honor and a really humbling experience."
If you'd like to pursue a career that lets you push yourself to new limits, visit the National Guard jobs board and contact a recruiter today.
Story and photo, by SFC Jon Soucy and courtesy of GX magazine, were
The shattering part begins in 2010, when the Army put out a memo that it was looking for the very first female volunteers to deploy with the Army Rangers and Special Forces to Afghanistan as part of a Cultural Support Team. SSG Buchanan immediately recognized the chance to serve alongside two of the most respected units in the military.
"They're elite, " she explains. "They wrote the handbook on unconventional warfare. And in today's modern battlefield, we just don't fight wars how we used to fight them. They're accomplished on a smarter level."
Source: jobs.nationalguard.com
INTERESTING VIDEO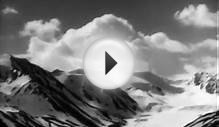 Alaska Army National Guard : Alaskan Scout - 1963 ...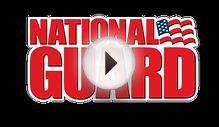 National Guard
Share this Post